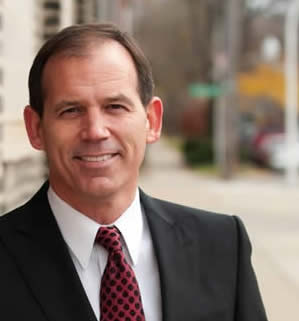 Bradford Newquist has over 20 years of professional experience in liturgical and popular music. His elegant voice and charming manner combine to create a unique experience in both musical settings. With ease and delight, Bradford brings versatility and expertise to each endeavor he pursues.
A trained musician, Bradford is able to span a wide range of repertoire. For the Church, he served 21 years as cantor, soloist and music director for "Sunday Mass at Mercy Home," a televised mass on WGN. He has also served as cantor and soloist for many churches including Our Lady of Sorrows Basilica, Immaculate Conception, St. Charles Borromeom, St. James and St. Domitilla Catholic Churches, Unity Church Chicago, Northwest, on the North Shore, of Oak Park and of Peace, First Presbyterian Church of Lake Forest, Church of Our Savior and Lake Street Church . . . all in the Chicagoland area. Service to the Church, however, has always been a part of Bradford's vocation and has seen him offer musical leadership for worship, wedding ceremonies and memorial services in locations across the United States and around the world.
"I find it continually remarkable how your professionalism, talent and spirit shines through at the TV Mass. I truly admire your ability to make each note of each song seem inspired. I'm sure the audience is touched deeply and aided in their prayers because of your efforts. We are blessed to have you as cantor."
Stephen Titra ~ Liturgical Art Director, Sunday Mass at Mercy Home
Bradford is pleased to be the male vocalist on two liturgical recordings featuring the music of Willard Jabusch. The New Jerusalem and The Life of Jesus in Song recordings are available thru Oregon Catholic Press (OCP).
In addition to liturgical venues, Bradford performs his own stage acts and is currently a vocalist with the City Lights Orchestra and the Stephanie Rogers Band. Bradford was lead male vocalist for Chicago's Stanley Paul Orchestra for 13 years. He has released two solo albums entitled HOME. . . an inspiring new recording and IT'S ALL RIGHT WITH ME. . . a collection of Cole Porter. Bradford performs both of these collections in concert. During the past three decades his talents have taken him around the world as a headliner on eight cruise ship tours where he also served as cantor and soloist for the ship's Sunday Mass. He has performed for many television, radio and theatre productions.
"Thank you so much for lending such a beautiful voice to our wedding ceremony. Not only do you have
an incredible voice, you are a true professional and your advise leading up the wedding
was invaluable. You truly made our wedding more special."
Lori and Brian Murphy
"You are such a truely talented man. I just hope you know how comforting it was to hear your voice
during our wedding ceremony, and how I will forever think of you as the
soundtrack to one of the happiest moments of my life. "
Laura Hubka-Timmel
"Thank you for being an important part of Katie's wedding. Your voice is magnificient.
You made the ceremony remarkable. I am still getting compliments from the guests at the wedding,
that this was the most touching wedding ceremony they can remember.
Now I remember why you impressed my family at my mom's funeral mass.
Your song selection and voice was very comforting."
Maureen Sullivan
Below is a sample list of songs that Bradford offers for church services and wedding ceremonies.
Please take a moment to enjoy these sound clips.
Title ~ Composer/Lyricist
This is the Day ~ Brown
I Will Be Here ~ Chapman
The Blessing (Edelweiss) ~ Hammerstein
I've Dreamed of You ~ Callaway & Lovland
Grow Old with Me ~ Lennon
Mama a Rainbow ~ Grossman & Hackady
Starting Here, Starting Now ~ Shire & Maltby
Love Changes Everything ~ Webber, Black & Hart
TRADITIONAL ~ Service/Mass
The Lord's Prayer ~ Malotte
Ave Maria ~ Schubert
I Have Loved You (psalm) ~ Joncas
Celtic Alleluia ~ O'Carroll & Walker