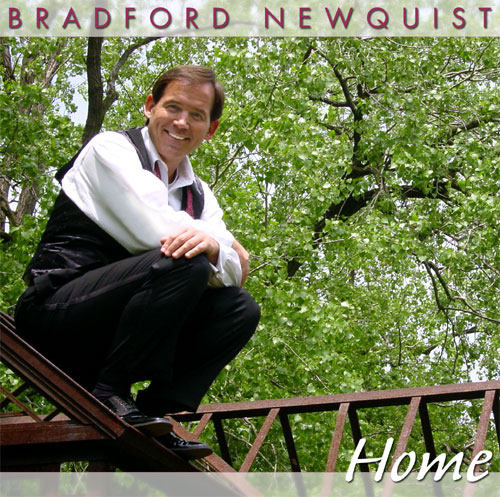 For some, home might be found in a place. For others, home might be found in people. For everyone, home can be found in passion, that place where we are true to ourselves and our origins. Through this personally chosen collection, Bradford invites you into his home...a home centered in his passion for music and its transforming potential.
In an exponentially changing world, the value of life's transformative gifts ~ love, support and inspiration ~ multiplies with like speed. Music is a source of such gifts and Bradford is one of music's passionate messengers. Come home with Bradford, where music celebrates life and inspires each of us to live our dreams.
Composer/Lyricist Accolades:
"I love your recording of Here's To Life. Your vocal is beautiful and the arrangement is very inventive."
~ Artie Butler
"I think you've done a splendid job. All the songs are superbly performed and arranged, and the packaging is gorgeous. Please tell William Underwood how much I enjoyed his fine and sensitive arrangement of Open Up My Eyes. I am so pleased that you chose to include it and that you sing it so beautifully."
~ Bruce Pomahac
"HOME is a lovely soft revealing album. Your voice is very easy listening and I am pleased with your
arrangement and production of Eternal Love!"
~ Paul Jason Bartholomew
"Thanks for the fine job on Into The Light. You did a wonderful job capturing the tune. Congratulations!"
~ Rich Daniels

Songs:

COME AND JOURNEY WITH ME
David Haas and Jeanne Cotter
MUSIC IS THE ANSWER / WITH A SMILE AND A SONG
Jay Brownfield / Larry Morey, Frank Churchill
GRATEFUL
John Bucchino
I'LL KNOW (I Have Succeeded)
Chuck Larkin
ETERNAL LOVE
Paul J. Bartholomew, Dino Kartsonakis
NATURE BOY
Eden Ahbez
HERE'S TO LIFE
Phyllis Molinary, Artie Butler
OPEN UP MY EYES
Bruce Pomahac
NO ONE IS ALONE / MOVE ON
Stephen Sondheim
NEVER NEVER LAND
Betty Comden and Adolph Green, Jule Styne
INTO THE LIGHT
Rich Daniels
HOMEWARD BOUND / HOME
Martha Keene / Charles Smalls
THE BEST SEAT IN THE HOUSE
Alan and Marilyn Bergman, Dave Grusin
Artists:
Bradford Newquist ~ vocals, arranger and executive producer
William Underwood ~ musical director, arranger, all keyboards and co-producer
Steve Rashid ~ engineer (Woodside Avenue Music), flugel horn, trumpet and co-producer
Chuck Desormeaux ~ soprano, alto and tenor saxophone
Leslie Fagan ~ flute and alto flute
Jennet Ingle ~ english horn and oboe
Peter Szczepanek ~ cello
Don Stiernberg ~ guitar and mandolin
Harold Morrison ~ drums
Anne DeLangis & Megan McDonough ~ vocals